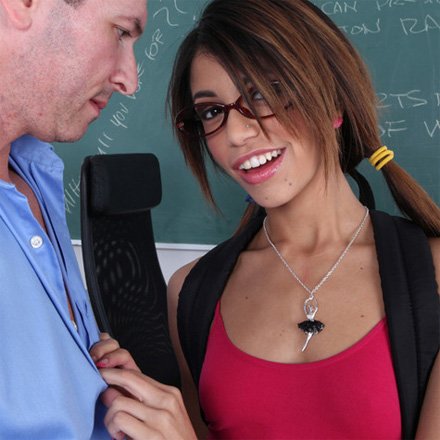 Here is one of those great scenes that has little or no basis in reality, but is hot, sexy, and naughty. Veronica Rodriguez is a sexy latina girl (duh!) with hot, petite body and a love of fucking. She really gets into it in this scene with her teacher, check this out:
So a female student walks into a classroom and says "Professor, why did you want to see me?" The professor responds, "Well, the report you handed me is nothing but blank pages." Confused, the student says, "But I know I did it!" and is on her knees sucking her professor's dick! Get it? Neither do we, but it involves petite Veronica Rodriguez getting rammed by a stiff cock and then creampied, so we'll roll with it!
Sucking, fucking, and a creampie finish – all on the teacher's desk. Now that's sexy hardcore for ya!

Click here for more from Veronica Rodriguez!