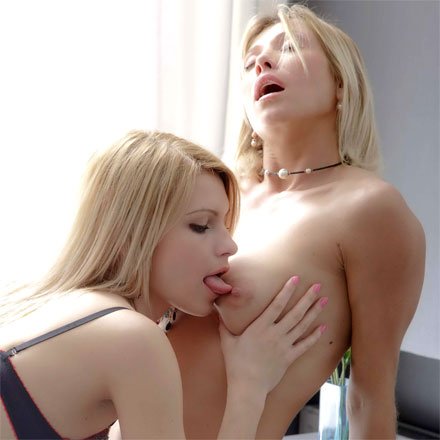 This scene from FirstBGG is pretty wild because it doesn't start out anywhere near where it finishes, and that's pretty fun. The two hot blondes are hot as fuck and they play together nicely, licking each others tits and kissing like crazy… and then it all goes sideways!
Blonde beauties Dora C and Norma share French kisses and tenderly pleasure each other in erotic foreplay that leaves them wildly aroused for his cock when he shows up. Together they suck his shaft and when the tattooed hottie sits on him she takes his erect dick into her asshole.
Wildness! Now we have a hardcore sexy threeway with the two girls rising him every way they can including in the ass, and the guy is working hard to make both of these cum like crazy. The girls are helping out licking each other out as they get fucked, and in the end it's an ass to mouth cumshot that is as naughty as it comes!